If you're new to Las Vegas, you have heard and already most likely seen a scorpion. If you are a long-time resident, you are very aware of the critters and the risks they are to your health if stung. Las Vegas is home to more than 25 different species of scorpions, including the bark scorpion, one of the deadliest in the world!
Sound terrifying? Don't let it! Though scorpions call Las Vegas home, we have a few tips and tricks to keep your family safe and help prevent these pests from entering your home.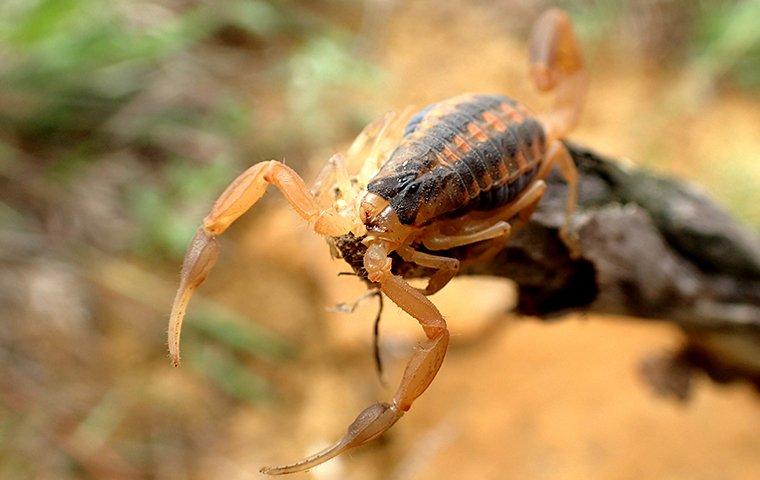 The 411 on Scorpions
Scorpions hardly need an introduction to Las Vegas residents. Las Vegas has been home to scorpions as long as it's been a desert … so, like, forever. With Las Vegas being home to the deadliest scorpion, it's important to understand the species — how and when they hunt and where they hide out.
Scorpions are very skillful hunters. Although they have multiple eyes, they can't see very well. They use vibrations and touch to find their prey. Bark scorpions are known for hanging upside down on things, allowing them to sting quickly if they are bothered or food comes along. Fortunately, scorpions like to travel solo, which makes them a little less intimidating. Regardless of the species of scorpion, if you are stung, seek medical attention immediately.
Seven Easy Tips to Scorpion Prevention
1. Be careful when doing yard work or spending time in your yard. Wear shoes, gloves and, if it's not too hot, pants. Especially when in your yard at night, as this is prime hunting time.
2. Just like humans, scorpions want a break from the heat. Remove any debris or objects in your yard where scorpions can hide out and cool off from the summer heat.
3. Check and shake out clothing, blankets, shoes or any item that you wear that doesn't go used for periods of time.
4. Be careful when opening boxes, containers or getting things out of storage.
5. Though scorpions can survive weeks and months without food, they crave water. Try to eliminate standing water from leaking bathroom pipes, drain pipes, pool equipment or faulty hoses.
6. Scorpions want protection from the heat, which means they will try to make their way inside. Protect your home by sealing cracks, damaged door sweeps, or any other potential entry points.
7. Controlling a scorpion's meal can also help keep it away from your home. This means eliminating their food sources, which include insects, lizards, mice, spiders and other scorpions. Call Anver Pest Control.
If you are dealing with scorpions, call Anver Pest Control for the best scorpion control in Henderson, NV. Our scorpion extermination services will help you to maintain a property that is free from scorpions giving you peace of mind knowing your pets and children are safe!