It's everyone's worst fear: you pull back your bed sheet covers and see little brown spots on your sheets. Bed bugs! How do you know if your hotel room is infested with bed bugs, and where do you even check?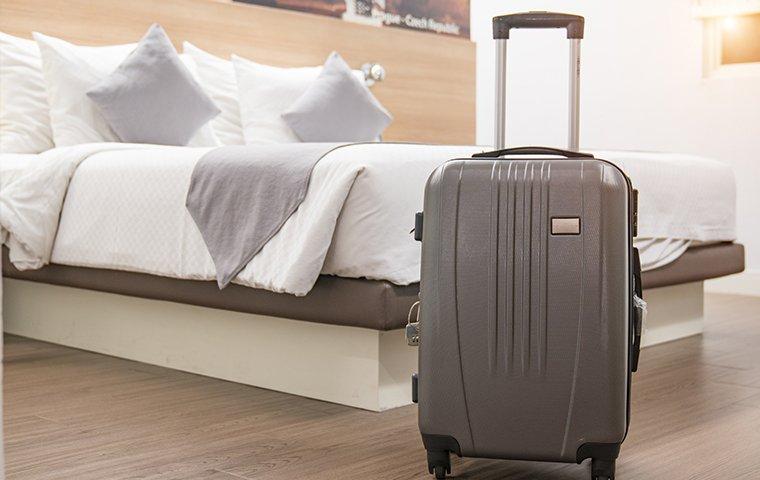 1. Check The Linens
Before you do anything else, pull back the corners of the bed cover and check the corners of the linens (where these critters like to hide) for brown bed bugs or dried blood spots. These are both surefire signs that your hotel room is home to bed bugs.
Next, pull back all the sheets until you reach the mattress. Examine the seams and crevices of the mattress looking for the same signs.
2. Check The Furniture
Despite their name, bed bugs aren't just found in the bed; they can also live in hotel furniture. Just like when you check the linens, take a flashlight — your phone will do — and check the crevices and seams of hotel furniture for signs of bed bugs. Also look for bed bug eggs, which are white and milky and laid in batches of one to five eggs.
3. Follow Your Nose
Discarded exoskeletons and feces of bed bugs produce an unpleasant, sweet scent. If you detect a strange odor in your hotel room, this could be a sign of a bed bug infestation. Inform the hotel immediately and leave the room.
4. Avoid Luggage on the Floor
When you enter the room, don't unpack immediately. Locate the luggage rack or, if your hotel room doesn't have one, the tub will do just fine. This is a great place to store your luggage to protect it from potential bed bugs while you inspect your hotel room.
If you have found yourself with a bed bug problem, they way to remove bed bugs from your home or business is to hire a pest control company. Your local Las Vegas pest control professionals, Anver Pest Control, has the understanding, training, and proper heating equipment to kill bed bugs in order to eliminate them completely.