The holidays are over, the tree is down, and the new year is here. Right about now, you're setting goals in hopes of conquering the next year. You have financial, physical, and emotional goals, but have you thought about your pest control goals? We know! It sounds silly. But having a goal for the new year and a plan to help accomplish that goal will save you headaches in the future when you face pest infestations.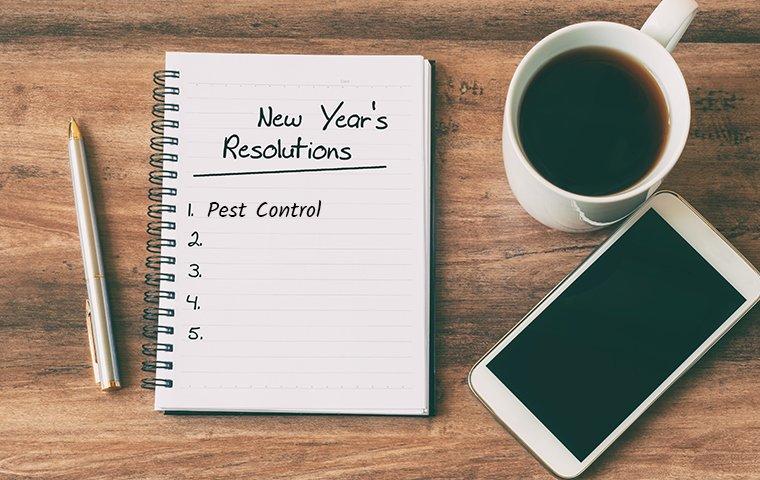 1. Clean It.
Make cleaning a part of your daily routine. Ensuring you have a clean household will help keep pests from munching on crumbs and entering your home in hopes of a winter feast. Sweep and vacuum daily, or as often as possible, and make sure you clean up crumbs immediately. Organize clutter or areas of your home you don't frequent often, such as the garage, attic, and storage rooms.
2. Fix-It.
Walk around your home and examine entryways, windows, and anywhere a pest might enter. Fix any damaged window sills, holes in the wall, or gaps in doorways. Replace weatherstrips if needed and install screens over chimneys and vents.
3. Check it.
Check wires, walls, and insulation for signs of pests such as gnaw marks or feces. Replace any damaged wires and chewed insulation. Carefully inspect any packages you bring home or take out of storage for signs of pests (rodent droppings, chew marks, etc). Inspect your luggage when returning from travels for bed bugs and termites.
4. Prevent It.
Above all, schedule regular appointments with your pest control company. Scheduled preventative services can not only provide you with year-round preventative treatments but can also identify signs of a potential problem before it gets out of hand. Preventative care is the best way to ensure that your home is pest-free in the new year!
Happy New Year!