With warmer weather just around the corner, spring cleaning will soon be underway! If you're like most people, you have a to-do list a mile long. Before you start cleaning windows and washing rugs, make sure you hit the pest hot spots in your home. Here is a room-by-room guide to help you keep pest infestations at bay: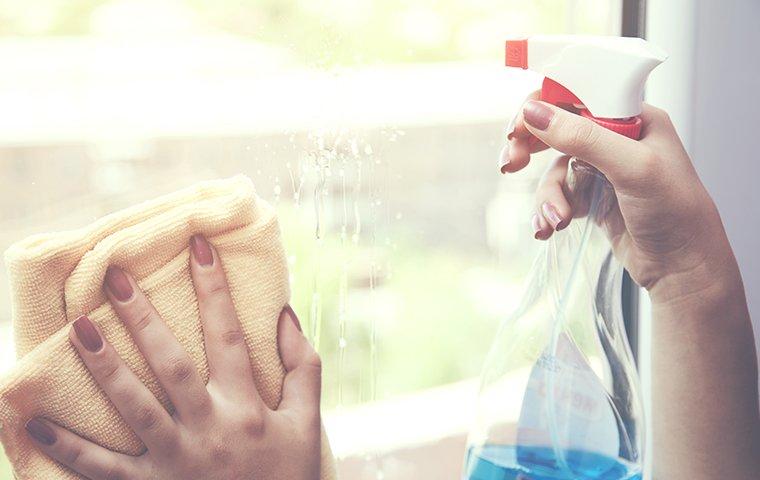 The Kitchen
The kitchen is the perfect place for ants to gather and make their home due to easy access to food and water sources. Although the kitchen is the most frequently cleaned room in the house, there is still a lot that goes unnoticed. Along with your daily sweeping and wiping the counters, take the time this spring to clean out your cupboards and pantry.
Remove all your appliances from your cupboards, and you'll be surprised how much dust and how many crumbs have accumulated in the small nooks and cracks. Cover any potential cracks and install fresh shelf paper.
Remove all items from your pantry and wipe down the shelves and vacuum or mop the floor. Also, go through your pantry items and throw away expired flour and spices that can attract pantry pests like beetles, moths, and ants.

The Bathroom
With all the humidity and potential water accumulation, the bathroom attracts pests like cockroaches and silverfish. Eliminating sources of water is the best way to prevent pest infestation. In addition to cleaning your bathroom and washing your shower curtain, examine your bathroom cabinets for any leaks and possible spaces where pests could hideout.
The Basement
Rodents, spiders, and other pests love to make your basement their home. This underground room is the perfect place for these pests because there are usually dark, cluttered corners for them to hide out in. Don't forget this room when you do your spring cleaning! Pull all furniture and clutter away from the walls and thoroughly vacuum and clean behind them. While you're at, dejunk any possible clutter to ensure that pests won't infest your home.
The arrival of warmer weather is the perfect excuse for pests to come out of their winter hideouts and infest your home. Using proper cleaning techniques is only the first step to keeping your house pest-free. A professional pest control company is the best way to keep your home free from infestations. To get rid of an infestation or to protect your home from pests, just reach out!